NXTZEN L-Coat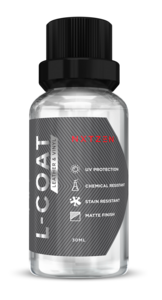 NXTZEN L-COAT is a flexible coating designed for protection of leather and vinyl surfaces. The high flexibility of NXTZEN L-COAT allows it to flex and move with the surface without degrading the structure of the coating.
L-COAT contains high levels of active ingredients designed to enhance the "non-stick" effect of modern automotive leather surfaces. Stains and dye-transfer from clothing is greatly reduced and makes cleaning of these surfaces easier.
To maintain the factory satin appearance of your leather and vinyl, L-COAT is manufactured to minimise any added gloss to the surface.
Protection Guarantee: 5 Years